alessandromaggio.it | developer & bot addicted
alessandromaggio.it | fullstack developer & bot addicted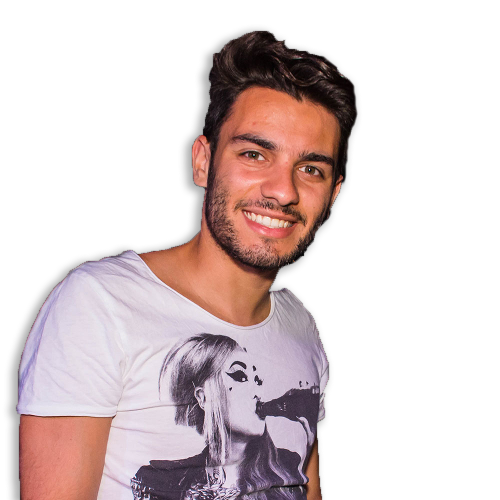 Alessandro Maggio
Fullstack Developer
alessandromaggio.it | fullstack developer & bot addicted
About me
PROFESSIONAL PATH
Hi, welcome to my site! I'm Alessandro Maggio passionate about Computer Scientist and in particular of coding. I started studying by myself programming languages at 14 years old, improving my ability for problem solving over the years. My first "big" project was "MSN-Skin-Maker", developed in VB.Net as far back as 2010. With the passing of the years and with the technological evolution I became passionate about web programming, I was fascinated by the possibility of creating something accessible to everyone at any time. I conclude high school by presenting SchoolSocial, a social network developed in PHP and Javascript with the aim of facilitating the exchange of school notes between teachers and students. Unfortunately I did not have the courage to carry it out, it could might become what is called "electronic register" in Italy. In 2014 I join at the University of Catania where I had the opportunity to improve myself, especially from the academic and social point of view. Thanks to the university I was able to publish my first academic article with Prof. Simone Faro. I spend my days developing scripts of any kind in order to automate as much as possible any operation, in fact, I call myself a "bot addicted". I complete the University with the thesis TELEGRAM-BOT TO HELP THE ORGANIZATION OF MEETINGS BETWEEN FRIENDS AND COLLEAGUES" (WDD-BOT) supervised by Prof. Emiliano Tramontana. I decided to continue my academic career with Master's course at the University of Catania in "Network and Security Systems". I work as a fullstack developer on two personal project and as a backend developer (freelancer) for a company based in Malta that deal with automation and social media. In the free time I try to contribute to the open source community.

I come from a small town in Sicily where Computer Scienze is undevalued maybe is for this reason that i dream the big cities. I've always thought that to be a great you have to dream big, that's what I'm doing and I think I'm on the right way.
alessandromaggio.it | fullstack developer & bot addicted
Skills? Someone. The percentages that follow do not refer to how well I know programming language / framework is, but the experience gained over the years.
alessandromaggio.it | fullstack developer & bot addicted
Telegram Bot
BOT, BOT, BOT
alessandromaggio.it | fullstack developer & bot addicted
Project
UNIVERSITY & PERSONAL
CARTOLIBRERIA GIANNETTO
IONIC - ANGULAR - MYSQL - MONGODB - NODEJS - FIREBASE (FCM)
Cartolibreria Giannetto is a mobile application that allows customers to view their profile sheet and the list of school adoptions
MYSTORE - MANAGEMENT SOFTWARE FOR JEWELERY.
ANGULARJS - LARAVEL - BOOTSTRAP - IONIC
myStore born from exigence of private client for substitute an old software with complete sets of data. With a long and strong reverse engineering it was possible to create a new software and move all data on cloud.
GARÇON-RESTAURANT-MANAGER
MONGODB - REACT NATIVE - NODEJS
The application allows you to facilitate reservations within a restaurant. Providing a simple and intuitive interface, offering a 360 ° view of current orders to all institutions present, Garçon proves to be an excellent substitute for paper and pen.
FOOD-CLASSIFICATION
PYTHON (SKYIMAGE - NUMPY - MATPLOTLIB)
This Social Media Management project allow to classificate picture between food and non-food.
alessandromaggio.it | fullstack developer & bot addicted
C - C++ - QT
Proceedings of the Prague Stringology Conference 2016, pages 99--111, 978-80-01-05996-8, 2016. Smart is an open source software which provides a standard framework for re-searchers in string matching. It helps users to test, design, evaluate and under-stand existing solutions for the exact string matching problem. Moreover it provides the implementation of (almost) all string matching algorithms and a wide cor-pus of text buffers.
alessandromaggio.it | fullstack developer & bot addicted